Fremont Water Heaters
Water heater repair and installation services in Fremont, California
Homes without hot water just aren't functional. You rely on your water heater every day, but how well does it serve you? You can get a tankless water heater that provides unlimited hot water. Or a hybrid water heater that significantly cuts down on your utility use. At Barnett Plumbing & Water Heaters we install only the highest quality water heaters and can help you get a rebate on them. We also offer the essential services you need to prevent leaks and keep your water heater working longer, including descaling, repairs, and inspection.
Our Water Heater Repair Services
Our team is fully equipped to handle 100% of your water heater needs, including water heater repair, installation, and descaling/flushing.
For water heater repairs, we can service virtually any configuration of water-heating appliance from all leading brands. Call us any time for help with your:
And more
At Barnett Plumbing & Water Heaters, we stock a wide variety of components for common water heater fixes, so less time is spent waiting for replacement parts to arrive.
While there are many ways your water heater can break down, we've found that the most common issues are:
Storage tank leaks

Appliances can no longer access hot water

Pilot-light goes out

Weird sounds coming from water tank

Faulty thermostat

Water temperature inconsistent or too low

Leaking from the base

Heating water takes too long

Faucet runs cold too quickly

Unit won't heat water

Worn out sacrificial anode rod

Poor venting or broken vent

Skyrocketing energy costs
No matter what's going on with your water heater, our plumbers can diagnose and fix it in record time. Call now to get started.
Working with Barnett Plumbing is Simple
Our qualified professionals quickly identify water heater problems, from the rust that leads to major leaks or mold growth that indicates a small leak is already underway, so you can step in before there is major damage to your home. Every team member has undergone a personality assessment to ensure they're well suited for customer service, so we can offer you both technical skills and friendly, honest communication.
Our team offers you so much more, including:
Competitive, honest pricing: You should always know what the work will cost before it starts.

Quick response: Sudden water heater leaks can cause problems; we'll be there quickly to help.

Quality parts: For repairs, we only install quality parts, protecting the longevity of your water heater.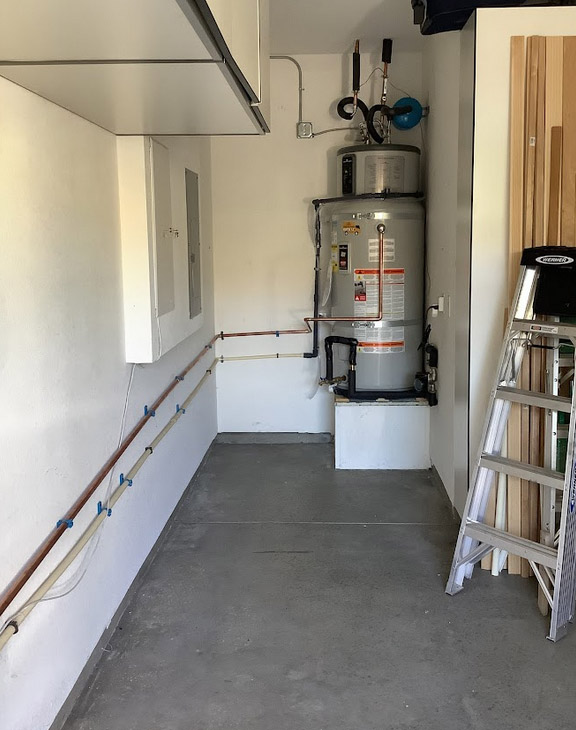 New Water Heater Installations
For new installations, we only install equipment from the best manufacturers in the industry. Our go-to brand for new water heater installation is Bradford White, due to their superior lifespans, generous warranties, and overall reliability. Whether you choose a 40 gallon gas hot water heater or a high efficiency 75 gallon hybrid water heater, it's hard to go wrong with Bradford White.
Reach Out Today for Dependable Water Heater Service in Fremont, California
As well as installed your new hybrid water heater, we also offer complete services for the water heaters you have. That include repair and descaling of both hybrid and tankless water heaters.
Choose us for all of your water heater needs in Fremont.
Why Choose Hybrid Water Heaters?
Hybrid water heaters rely on more than one method of heating the water. The AeroTherm® Series that we install first operates as a heat pump water heater. This is a highly energy-efficient method of heating, but at times of very high demand, it may not be enough. That's why why the system also has an electric heating device as a back-up. It can always deliver you hot water when you demand it. In fact, if you choose to, you can set the AeroTherm® to electric operation only or an energy-saving vacation mode.
Other benefits of the hybrid water heaters we offer include:
Quiet operation normally, and an even quieter mode

Simple electronic controls make it easy to control

Easy installation, so your plumber can work quickly

Ideal for indoor installation in basements, attics, etc.

Offers monitoring information about its performance
Take Advantage of California's Rebate Program
Old water heaters run when they don't need to and waste your money. It's now cheaper to get a replacement hybrid water heater (also called a heat pump water heater), thanks to California's rebate program. Depending on income, families which purchase hybrid water heaters may qualify for up to $4,885 in incentives for the purchase. That's a huge discount on an HVAC unit that will help you save money every month in utility bills too.