Water Heaters in Newark, CA
Newark's preferred water heater repair & water heater installation service
Take longer hot showers without paying more in utilities. Switching to a tankless water heater or a hybrid water heater can save you in energy costs, even if you're using the same amount of hot water. With California's rebates on hybrid water heaters, choosing one is more affordable than ever. Barnett Plumbing & Water Heaters has expert, friendly staff that can help you get a new hybrid water heater for less. We also offer other water heater services in Newark, CA.
Benefit from California's Water Heater Rebate
Usually, the problem with buying more energy-efficient HVAC units that will save you money in utilities is that they will cost you more upfront. Not so with hybrid water heaters. Thanks to California's rebate program, where the typical family may get $3,800 worth in rebates and low-income families get even more, hybrid water heaters and gas water heaters are comparable in price. That makes switching to the more energy-efficient technology a simpler decision.
You can save money upfront, and you'll save more every month with a hybrid water heater. They are also called heat pump water heaters, and they use heat pump technology to increase your water's temperature for much less energy expenditure. The result is that your monthly utility bills should get smaller.
Benefits of Hybrid Water Heaters
The reduced upfront cost of hybrid water heaters is not the only benefit. There are many reasons to choose a hybrid water heater, including:
Other Water Heater Services
Barnett Plumbing & Water Heaters also offers all of the services you need to keep your water heaters running well in Newark. For both tankless water heaters and hybrid water heaters, we offer:
Descaling: Removing mineral build-up from a tank-style water heater is one of the most important ways to extend its life and avoid leaks. Tankless style water heaters can also benefit from descaling.

Repair: Inspecting and repairing small issues with water heater is important to keep it operating at peak efficiency, saving you in utilities and preventing those issues from becoming serious. Repairs are, of course, also important when your water heater isn't working or has other major issues.

Maintenance: Regular maintenance will preserve the life of your water heater, helping you put off expensive replacement costs.

Replacement: Whether you need to replace the anode rod in the tank to prevent corrosion or you need to replace the whole unit, we can help.
Not sure what your water heater needs? We can identify the problem for you, whether there is a problem with debris inside the tank or the electric heating elements.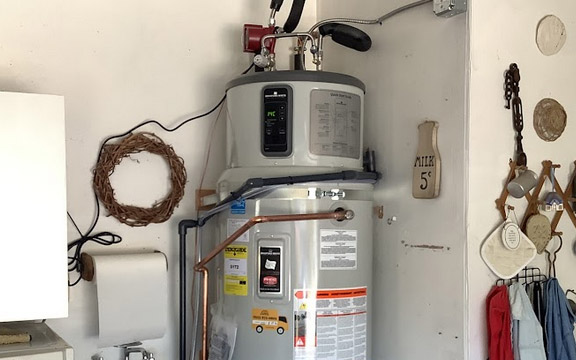 Reach Out Today
Barnett Plumbing & Water Heaters is the professional, responsive and smart team that you need for all of your water heater services. We'll inspect your unit, diagnose its issues and let you know if you'd be better off repairing or replacing it. We offer new installations, maintenance, and all of the services you need to keep your water warm.
Contact us for water heaters in Newark, CA.