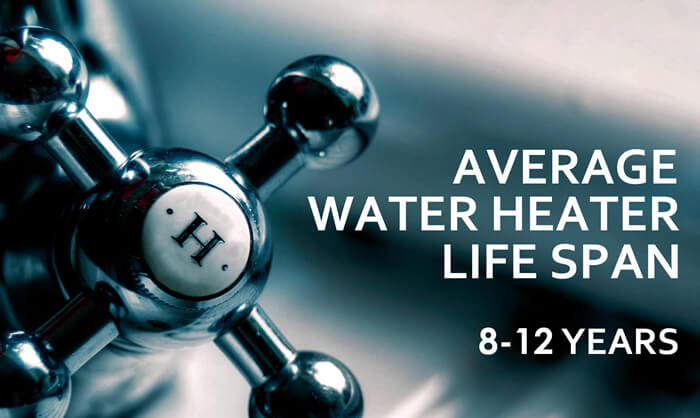 Water Heaters
Barnett Plumbing has been providing and installing water heaters for the past 10+ years and has worked with everything from standard, low NOx, natural gas units, to direct or power vents, to tankless units. We are trained and ready to provide our customers with the highest quality of service from beginning to end.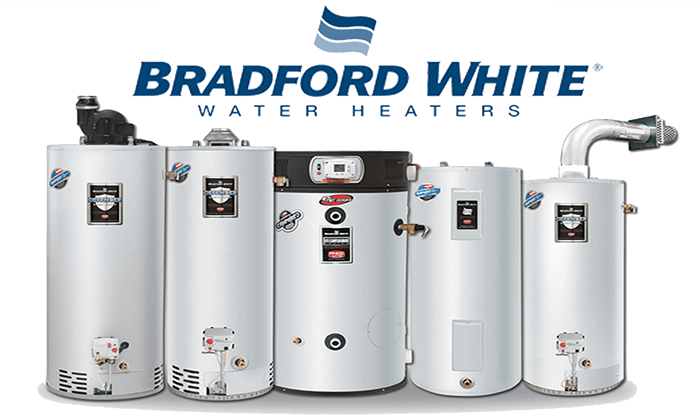 HIGH QUALITY NEW WATER HEATER INSTALLATION
For new hot water heater installations, it's hard to beat Bradford White. Their equipment offers the best balance of reliable performance, long lifespans, and generous warranties. Their equipment is also available in a wide variety of options for venting, storage tank capacity, and fuel hookups, so there's a perfect Bradford White water heater for everyone's needs.
Bradford White water heaters

Steel water heater straps & bracing

High density water heater pan
All brass, quarter turn, cold water shut off

Stainless steel flexible water heater supply lines

T&P run to exterior wall (includes first 5′)
Quarter turn, gas shut off valve
INDUSTRY LEADING WARRANTY OPTIONS
LEADING STANDARD WARRANTY
Bradford White 6 Year Tank and Parts Warranty

6 Year Barnett Supplied Parts Warranty

6 Year Barnett Workmanship Warranty
OPTIONAL EXTENDED WARRANTY
Bradford White Extended 10 Year Tank and Parts Warranty

10 Year Extended Barnett Supplied Parts Warranty

10 Year Extended Barnett Workmanship Warranty
Ball brass, quarter turn, whole house shut off
T&P line run (more than 5′) to exterior wall

Water heater pan run to exterior wall
"Excellent service, and friendly professional techs. Our water heater died and needed to be replaced. We had a heat pump model installed, and Barnett installed a loaner unit at no cost while we waited for the electrician to make the necessary updates. They're great, we'll definitely work with them again when we need to."
WATER HEATER REPAIRS
Our team is fully equipped and prepared to repair virtually any kind of water heater, from any major manufacturer. That includes gas water heaters, electric water heaters, and tankless water heaters. While most water heaters we see in the Tri-Valley area are 40 gallons, we can also service smaller point-of-use heaters, significantly larger capacity water heaters, and even commercial water heaters.
Water heaters that are less than 5 years old and are experiencing issues lighting or remaining lit are typically still under parts warranty and have the possibility of being repaired. This repair process begins with diagnosis and can requires several repair steps to identify the root issue. Bradford White replacement parts can be obtained same day, while other brands will usually warranty out replacement parts one at a time and take 3-5 business days to arrive.
Call today for your water heater repair needs and let one of our trained technicians begin the diagnosis process. Your plumber will be able to not only determine the source of any current issues with your water heater, but also spot any upcoming issues before they develop into actual problems. That's the Barnett Plumbing difference.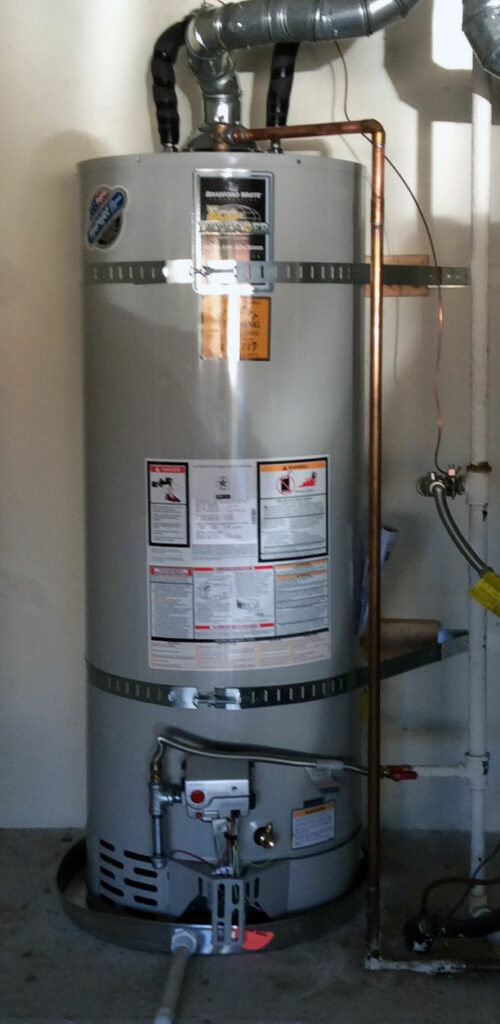 In our 10 years of plumbing we have had the opportunity to install and service a dozen different water heater brands. In that time, we have found Bradford White outranks all their competitors because of their:
Hybrid Water Heaters
Hybrid water heaters are the newest development in water heater technology, and they're one of the biggest leaps forward since the tankless water heater.
Hybrid water heaters combine the best parts of a standard tanked water heater with the efficiency of a heat pump system, making them 2-4 times more efficient than either electric or gas powered water heaters.
California also offers generous rebates for new installations, which means they typically cost about the same as a standard water heater to install, but significantly less to run.
Read more about hybrid water heaters or speak with your plumber today to see if one is right for your home.